Gaimin.io & Biconomy Exchange want to create new tokenized value by launching IEO in this bearish period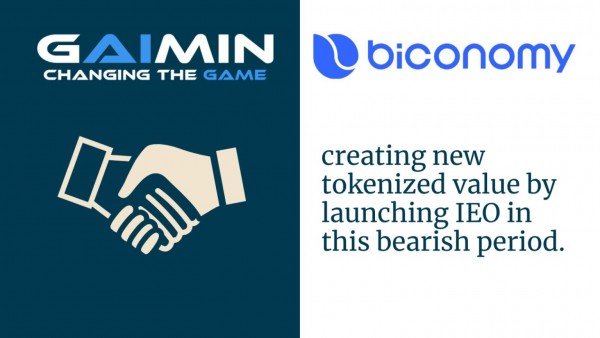 Both Biconomy and Gaimin.io want to change how the industry sees initial exchange offerings (IEO) by collaborating together to create new values and beating the norms.
An Initial Exchange Offering (IEO) is a token sale supervised by a cryptocurrency exchange. Usually, IEOs are made available to the exchange users. The aim of doing an IEO is just like ICOs, allowing investors to get cryptocurrencies while raising funds for potential projects. IEOs try to promote only legitimate projects because it places an exchange's credibility at stake.
Biconomy is a new exchange and has been searching for new projects that are credible and have good potential to make a change in this bearish crypto market. They find that Gaimin.io addresses the needs of gamers in the market and would make a difference. The vetting and due diligence lasted for one month, and finally, the idea of placing Gaimin as the first project has gotten the support from the management team, advisory committee, and most importantly, the community at large.
"Gaimin.io has comprehensive plans for their go-to-market strategy, and they have a good track record for their previous IEO. So far, based on what was told to us and also what we can see on the blockchain, it tallies up. We have spoken to the team and even asked why are they doing IEO at this period and with a new exchange like us. They told us that through their past experiences, each IEO helps them to build a name for themselves and the exchange, and most vitally, it builds the base of new user acquisition," David Jung, CMO of Biconomy shared with Blockcast.cc reporter.
The statement above is verified online and through media coverage. In each IEO, Gaimin.io has flown to the markets, met key people and influencers, ran meetups, held round tables, spoken on panels and given presentations, all with the intention of marketing the projects and building key alliances.
In the recent IEO's, most of the projects suffer, and investors lose up to 98 percent of their money according to news from Cointelegraph. This has sparked much negativity for IEO's.
"Well, In the crypto world, we have all seen many tokens from other company's previous listings lose a lot of their value immediately when they list, mainly because the price discovery happens upon the actual listing. There has been no price action prior to listing, so the market is trying to work out what the token value actually is. We have learned from this and plan to create solid price action and a history of buying activity under our final listing price. This plan is easier to achieve in smaller controlled steps, as we are doing now. It also allows us to accurately gauge market demand to ensure we do our post IEO listing at the optimum time," said Martin Speight, CEO of Gaimin.io. "Token backed with blockchain technology has given innovative value by the people. No matter how bearish the market is, if there is a real demand, there will be real users."
The bigger goal for Gaimin.io is to create awareness for the project in key gaming marketplaces like South Korea, South East Asia and China. The end goal for Gaimin.io is about growing the user base of gamers who love the project. Gaimin.io and Bicomony are like-minded, capitalizing on the IEO with that in mind. They have also educated their users to let them understand that the final token value will be controlled by market influences (like demand) and token demand will be directly linked to how many and how quickly projects like Gaimin.io grow their user base.
The crypto and blockchain community will continue to welcome good potential projects to help elevate the industry and build a sustainable business model.
Information on Gaimin.io can be obtained at www.gaimin.io. For more details on the IEO, visit www.biconomy.com
About Biconomy
Biconomy is a new cutting-edge cryptocurrency exchange with global view. Headquarter in Canada and have offices in Korea, Japan, Russia and UK. Biconomy is committed to opening a new era of the digital economy by serving outstanding blockchain projects with customized one-stop additional services around listing, trading, liquidity management and more.
About Gaimin
The Gaimin.io project is a blockchain powered gaming platform which connects the world's largest supply of distributed GPU processing power, which belongs to the 1.3 billion gaming PCs in the global gaming community, with the rapidly growing, worldwide demand for massive processing power, therefore allowing passive monetization of the gamer's GPU when not being used for gaming.
Media Contact
Company Name: Blockcast.cc
Contact Person: Jenny Zheng
Email: Send Email
Phone: +65 98832707
Country: Singapore
Website: https://www.blockcast.cc