Dai (DAI) Gets Listed on Atomars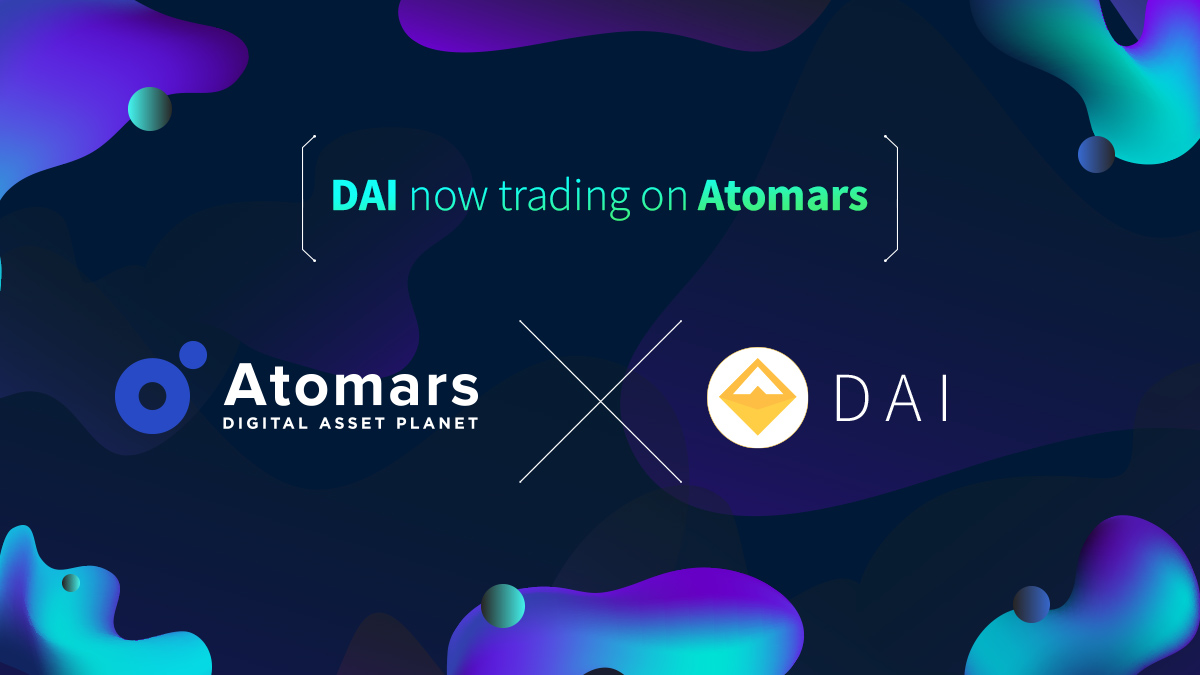 We are proud to announce that Dai (DAI) is now listed on Atomars exchange. Effective immediately, DAI deposits can be made and trade is open in the following pairs: DAI/BTC, DAI/ETH and DAI/USDT.
SUMMARY OF DAI
Dai is the core component of the MakerDAO project and is the first decentralized stablecoin to be backed by assets rather than major fiat currencies. As a collateral-backed cryptocurrency whose value is pegged at $1 USD, Dai maintains its price stability by being backed by different assets of value.
In the cryptocurrency marketplace, Dai offers a uniquely stable store of value and can be used to purchase other cryptocurrencies or at merchants that accept cryptocurrencies at the point of sale. Dai can be used to make loans with low volatility, that are stable and predictable. The low fees associated with the Dai cryptocurrency let businesses use Dai to reduce costs in their supply chain as well as for international trades.
FEATURES OF DAI
Security
Dai is backed by assets of value. This means the collateral portfolio is diversified which allows multiple assets to guarantee Dai's value.
Transparency
Dai-based transactions are transparent as information about locked collateral backing for each Dai as well as its safety profile can be viewed by anyone.
Emergency Shutdown
The Dai stable coin system ensures resilience by employing an emergency shutdown in the case of a "black swan" event. This is a last resort that guarantees a stable price despite any unforeseen or unwanted situations.
Hedging
During times of extreme price volatility, Dai offers traders a safe place to hedge their cryptocurrency without exiting the crypto space. Traders are able to maneuver through the market's high and low prices by trading assets between DAI and BTC or ETH.
Lending
The low volatility of Dai makes it perfect for a stable, and predictable loan. Borrowers don't like the uncertain environment high volatility creates because it makes it difficult to plan for the future. Dai helps in overcoming this.
Decentralized Leverage
In the process of creating (Collateralized Debt Position), users can get more capital without having to spend collateral they have confidence in.
Decentralized Exchanges
Decentralized exchanges often find it difficult to provide fiat-offramps, but with Dai, users can trade assets for a currency that has low volatility and is relatively stable compared to other widely accepted currencies.
Exchange Pairs
Crypto-to-crypto trading can be complicated. Tracking earnings is difficult when a base trading pair's value rises and falls during trades. Dai's price predictability is greater thanks to its low-volatility pairings.
Supply Chain
During the exchange of goods and assets, middlemen charge high fees to ensure safe transactions, lend stable capital, and broker cross-border initiatives. Dai and the blockchain can reduce the costs of the supply chain as well as the fees associated with international trade.
Prediction Markets
Betting in the long term becomes infeasible when users gambleon an asset's future price. Dai is a stable cryptocurrency that presents a natural choice for prediction markets and gambling platforms.
Official Website: https://atomars.com/
Telegram: https://t.me/AtomarsExchange
Twitter: https://twitter.com/AtomarsExchange
Facebook: https://www.facebook.com/AtomarsExchange
Media Contact
Company Name: CoinAds Ltd.
Contact Person: Media Relations
Email: Send Email
Phone: 0854123365
Country: United Arab Emirates
Website: https://coinads.pro/