Membrane Filtration Market Size Is Projected To Reach USD 24.4 billion by 2026 | Polaris Market Research
The global membrane filtration market size was valued at USD 13.76 billion in 2018 and is anticipated to grow at a CAGR of 6.9% from 2019 – 2026 according to a report published by Polaris Market Research
The global Membrane Filtration Market size is expected to reach USD 24.4 billion by 2026 according to a new study by Polaris Market Research. The report "Membrane Filtration Market Share, Size, Trends, Industry Analysis Report By Application (Water & Waste Water, Food & Beverages), By Module Design (Spiral Wound, Tubular Systems, Plate & Frame and Hollow Fiber); By Membrane Material (Polymeric, Ceramic); By Type, By Regions, Segments & Forecast, 2019 – 2026" gives a detailed insight into current market dynamics and provides analysis on future market growth.
The membrane filtration market is projected to witness a significant growth over the forecast period. Touted as a difficult, intricate and futuristic technology in the recent past, the overall membrane filtration systems and technology have undergone huge changes and have now become an inevitable part of production processes serving a wide variety of applications. These changes have resulted in the revolutionization of number of application industries including food & beverages and water & wastewater treatment.
Request A Sample Report At : https://www.polarismarketresearch.com/industry-analysis/membrane-filtration-market/request-for-sample
Some of the major market participants include : Alfa Laval, GEA Group AG, DowDuPont, Suez Water Technologies & Solutions, 3M, Pall Corporation, Koch Membrane Systems, Inc., Veolia, Prominent GmbH, Pentair Plc., SPX Flow Inc., and Porvair Filtration Group.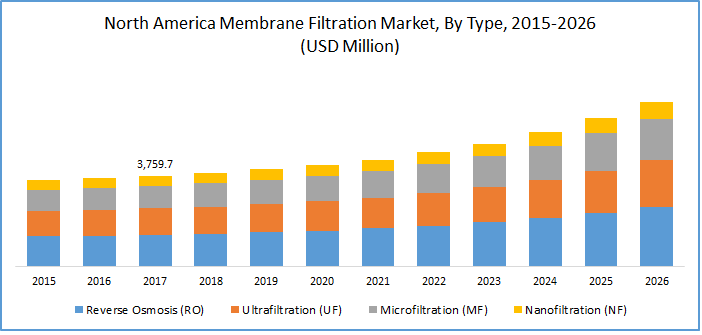 High efficiency and ability to separate undesirable constituents from flow streams, low cost of operation and ease of usage has increased the adoption rate of membrane filtration products. They have become an indispensable part in high value applications such as fruit concentrates, waste water treatment, drinking water recovery, seawater desalination, high purity water generation among others. Economies of scales achieved by market participants, as well as optimization of the overall manufacturing technology have opened up new avenues such as residential drinking water treatment. Such trends are benefitting the overall market growth.
Wastewater recycling is another avenue that is providing promising opportunities to industry participants. Effectiveness in separating harmful content from water has resulted in the adoption of membrane filtration technology in wastewater recycling sub-segments such as secondary municipal effluent reuse. Apart from seawater as well as brackish water desalination, membrane filtrations are also being used to produce clean water fit for human consumption.
Asia Pacific emerged as the largest market in 2018 and is expected to maintain its dominance over the forecast period. Economic factors, rapid population growth, combined with scarcity of water has prompted countries such as China and India to setup ambitious targets pertaining to water reuse. This trend is in turn expected to benefit the membrane filtration demand for water treatment applications.
Browse More Insight Of Membrane filtration Market Research Report Enabled with Respective Tables and Figures at: https://www.polarismarketresearch.com/industry-analysis/membrane-filtration-market
The membrane filtration market is characterized by high intensity of industrial rivalry and has a presence of international as well as local market participants. Due to this high rivalry, companies are providing comprehensive solutions to customized needs of the clients in order to retain the customers and to gain market share. Broadening of product portfolio is another trend that is visible in the industry.
Polaris Market research has segmented the Membrane Filtration market report on the basis of application, module design, membrane material, type and region
Membrane Filtration Application Outlook
Water & Wastewater
Food & Beverages
Dairy Products
Drinks & Concentrates
Wine & Beer
Other Applications
Membrane Filtration Module Design Outlook
Spiral Wound
Tubular Systems
Plate & Frame and Hollow Fiber
Membrane Filtration Membrane Material Outlook
Polymeric
Ceramic
Membrane Filtration Membrane Type Outlook
Reverse Osmosis (RO)
Ultrafiltration (UF)
Microfiltration (MF)
Nanofiltration (NF)
Membrane Filtration Regional Outlook
North America (U.S., Canada, Mexico)
Europe (France, Germany, UK, Italy, Spain, Netherlands)
Asia Pacific (Japan, China, India, Australia)
South America (Brazil, Chile)
MEA (Saudi Arabia, UAE, Qatar, Oman)
Have Any Query Or Specific Requirement? Feel Free To Ask Our Industry Experts: https://www.polarismarketresearch.com/industry-analysis/membrane-filtration-market/speak-to-analyst
About Polaris Market Research
Polaris Market Research is a global market research and consulting company. The company specializes in providing exceptional market intelligence and in-depth business research services for our clientele spread across different enterprises. We at Polaris are obliged to serve our diverse customer base present across the industries of healthcare, technology, semi-conductors and chemicals among various other industries present around the world. We strive to provide our customers with updated information on innovative technologies, high growth markets, emerging business environments and latest business-centric applications, thereby helping them always to make informed decisions and leverage new opportunities. Adept with a highly competent, experienced and extremely qualified team of experts comprising SMEs, analysts and consultants, we at Polaris endeavour to deliver value-added business solutions to our customers.
For More Information: https://www.polarismarketresearch.com
Media Contact
Company Name: Polaris Market Research and Consulting
Contact Person: Mr.Likhil
Email: Send Email
Phone: +1-646-568-9980
Address:30 Wall Street 8th Floor
City: New York
State: New York 10005
Country: United States
Website: https://www.polarismarketresearch.com/industry-analysis/membrane-filtration-market