Haier Biomedical Conference, Training Center & Showroom was Completed in West Africa, Expanding the Presence of Haier Biomedical Vaccine Cold Chain
The Conference, Training Center & Showroom Opening Press Conference of Haier Biomedical and Partners in West Africa was successfully held in Nigeria on July 21, 2022.
The Conference, Training Center & Showroom Opening Press Conference of Haier Biomedical and Partners in West Africa was successfully held in Nigeria on July 21, 2022. The event was attended by representatives of National Primary Health Care Development Agency (NPHCDA), Executive Secretaries responsible for primary immunization from more than 20 states in Nigeria, and major clients of Haier Biomedical in the life science field of vaccine safety. Also the was participated by nearly 90 personnel from UN, NGOs, and WHO, and the Federal Ministry of Health of Nigeria. All who were present at the conference expressed their appreciation for the event.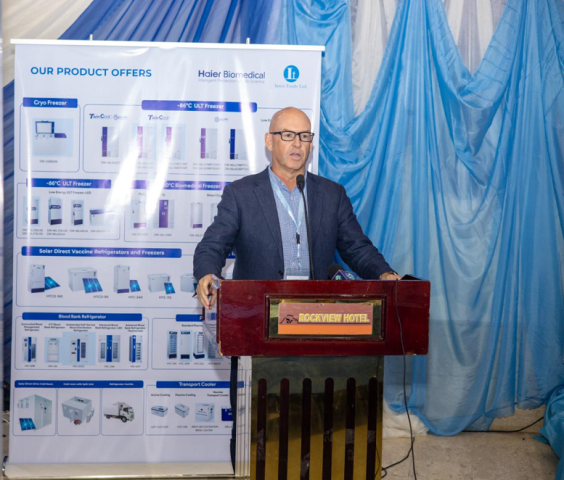 At the press conference, Peter Pedersen, Director of International Business Operations of Haier Biomedical said, "Haier will focus new product R&D efforts on multiple vertical fields, including public health, medicine, blood and laboratory, to create more values for international partners, stakeholders and of course end users."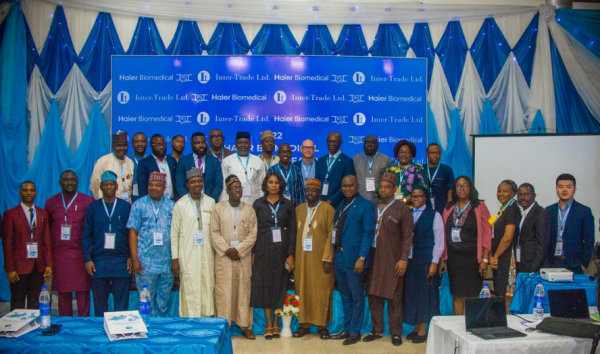 The conference pointed out that Haier Biomedical is the world's complete cold chain solution manufacturer and provider. Dedicated to offering quality after-sales services, the company has established a professional after-sales service system across 130 countries. Apart from product quality and technical development, Haier Biomedical also prioritize the quality and speed of localized services. Meanwhile, Haier Biomedical intends to use this platform to build and maintain a closer relationship with users, key stakeholders for last mile healthcare.
The following guests attended the seminar and conference:
● Dr. Audu Mushood, Cold Chain Specialist of Sydani Initiative for International Development
● Dr. Bello Yahaya, Executive Director/CEO Representative, National Primary Immunization Administration, Nigeria
● Dr. Muhammad Usman Adis, Chairman of the Committee of Executive Secretaries of Primary Health Institutions in Nigeria.
● Yusuf Ibrahim, Chief Scientist of the largest biobank in Africa
The seminar, which revolves around vaccine safety, sample safety and cold chain management, explored future development and current challenges of the cold chain industry. The seminar gained the recognition from the Ministry of Health and other parties concerned and received extensive coverage from local media outlets. This will open the door of opportunities for UNICEF and other NGOs to procure products from Haier Biomedical, paving the way for the company to offer timely services in the future.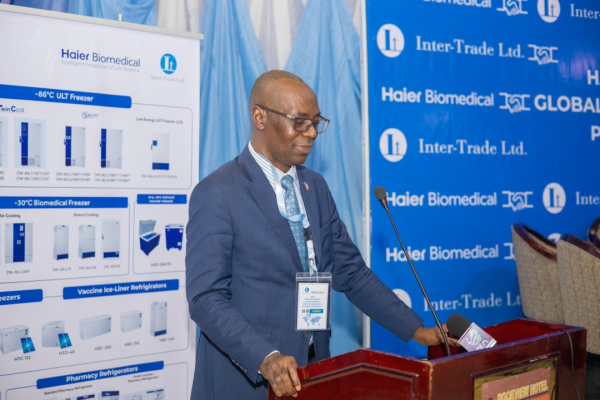 Nigeria, home to the world's largest vaccine cold chain market, is a country where 8 million newborns are born every year. However, this market is still plagued by slow after-sales service responses and inadequate training sessions. Against this backdrop, and thanks to the joint investment of Haier Biomedical, its local strategic partner Inter-Trade Ltd, and Mr. Eghosa, who is the CEO of Inter-Trade Ltd, the Haier Biomedical Cold Chain Equipment Experience Center (Floor 1) which covers an area of 2000m2 and a training center which comprises 6 vaccine safety technology training classrooms (Floor 2) were officially completed. This has diversified the range of services that Haier Biomedical provides to local people which has increased their trust in Haier Biomedical and partners.
Haier Biomedical is not only a global manufacturer and supplier of complete cold chain solutions, but also a major partner of the World Health Organization and UNICEF. Amid the covid-19 pandemic, Haier Biomedical have been taking greater corporate social responsibilities by providing solar direct drive products such as solar vaccine refrigerators and solar cold storages to areas plagued by power shortages to help store lifesaving vaccines, blood, and samples.
This conference further expanded the cold chain for Haier Biomedical vaccines in Nigeria and West Africa, and allowed more customers, key stakeholders, and Haier's partners gain further insight into Haier Biomedical, opening the door for future cooperation. Committed to the "Life Science and Medical Innovation" strategy, Haier Biomedical will continue to innovate and provide more users with professional services and safety management solutions for localized samples, blood, and vaccines to make life better through the intelligent protection of life science.
Media Contact
Company Name: Haier Biomedical
Contact Person: Haier
Email: Send Email
Phone: +86-532-88935593
Country: China
Website: https://www.haiermedical.com/