Werobot Pino Lamp Launched on Kickstarter as the Intelligent Robot Auto Tracking Lamp
World's first artificial intelligent lamp robot automatically tracks faces and objects, intelligently adjusting the lighting angle
Werobot Pino Lamp is being launched today on Kickstarter at <https://reurl.cc/W1olOx> as the world's first Intelligent Auto Tracking Table Lamp that can deliver an intelligently adjustable illumination experience.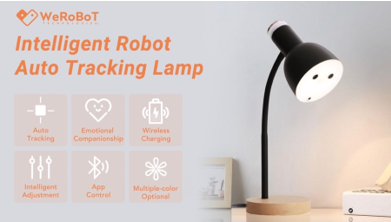 Solving the shortcomings of traditional table lamps and their limitations, Pino Lamp was designed to improve the working, reading, writing, and even video recording experience when you're doing anything from your table and need really good lighting that perfectly adjusts to your specific requirements at any given time.
This innovative lamp is designed with an Artificial Intelligence algorithm that supports automatic object tracking, recognizing and following selected objects, including the user's face, in the most targeted and optimized illumination experience that thus far was not available to users. The lamp's light head also intelligently moves by itself when the user sets this mode, "and the breathing light effect can interactively make the user feel accompanied.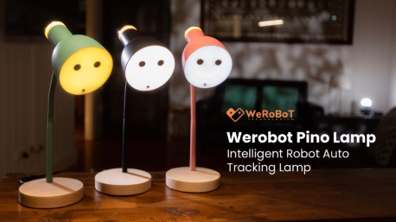 Pino Lamp also supports an intelligent adjustment mode that allows the user to adjust the lamp's lightning brightness and temperature according to different preferences from the lamp's app. This can be controlled remotely or when you're near the lamp since the app allows you to explore both scenarios. Alternatively, the user can select Werobot Pino Lamp's pre-set AI-powered modes. The lamp base also works as a Wireless Charging platform where users can wirelessly charge their phones.
There are three essential features of Werobot Pino Lamp that are sure to entice crowdfunding backers to pre-order the lamp. It features a Book Tracking Mode through which the lamp tracks the user's movements, shining the right light on the pages that are being read. It also offers the Human Face Tracking Mode, which allows users to shoot videos from their phones and have this very special lamp intelligently following their face.
Finally, the lamp's Customized Color Tracking Mode makes it possible for users to set one exact color to track, which will make the lamp's light track the only color that the user desires to track, tracking any objects of that color exclusively.
The Werobot Pino Lamp campaign on Kickstarter at <https://reurl.cc/W1olOx> is seeking to fund the large-scale production of the lamp which will be offered early and for a special price to the backers who support the campaign.
About Werobot
Currently the world's leading artificial intelligence robot company, Werobot is an AI robot company established in January 2018 with the mission to develop low-cost robots to cover several needs at every home around the planet. The company has independently developed and established a deep learning platform and a supercomputing center. We have also accumulated a series of leading artificial intelligence technologies and robot control technologies, including object image recognition, unmanned driving, monocular intelligent navigation, human action recognition, emotion recognition, and other technologies.
For more information, please visit <https://reurl.cc/W1olOx> or contact at [email protected]
Media Contact
Company Name: Werobot Technology Co., Ltd
Email: Send Email
Phone: +86 18475513569
Country: China
Website: https://www.kickstarter.com/projects/450423506/werobot-pino-lamp-intelligent-robot-auto-tracking-lamp?ref=7n6nkx