Campen Auktioner Presents Fine Young Dressage Horses for Auction
Campen Auktioner, a well-known auction house in Denmark, is pleased to announce the upcoming dressage horse auction featuring fine young dressage horses. The auction will provide a unique opportunity for horse enthusiasts and industry professionals to purchase some of the finest young dressage horses available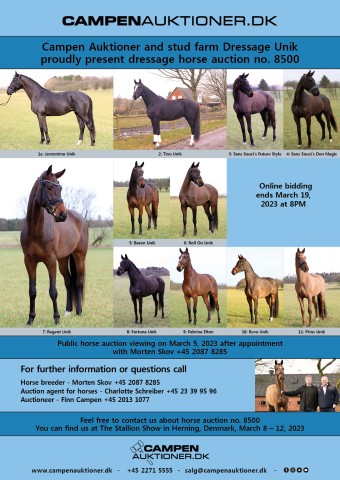 Jutland, Denmark – Campen Auktioner, a leading auction house in Denmark, is proud to present a unique dressage horse auction featuring fine young dressage horses. The auction will provide an excellent opportunity for horse enthusiasts and industry professionals to purchase some of the finest young dressage horses available in Jutland, Denmark. The auction will take place on a user-friendly online platform, making it easy for interested buyers to participate from anywhere in the world.
The auction house has partnered with renowned horse breeder, Morten Skov, and Auction Agent for Horses, Charlotte Schriber, to ensure that the horses presented for auction meet the highest standards of quality and excellence. Skov and Schriber will be available to provide buyers with guidance and support throughout the auction process.
"We are excited to offer these fine young dressage horses to our customers," said Finn Campen, owner of Campen Auktioner. "Our team has carefully selected each horse to ensure that they meet the highest standards of quality, and we are confident that they will make a great addition to any dressage stable."
The dressage horse auction features horses with impeccable bloodlines and exceptional talent, making them an ideal choice for dressage riders of all levels. The auction offers buyers the opportunity to purchase horses that have been carefully bred and trained for success in the dressage arena.
The online auction platform allows interested buyers to view detailed information, photos and video of each horse before placing their bids. The bidding process is transparent, and buyers can track the progress of the auction in real-time.
"We encourage interested buyers to take advantage of this unique opportunity to purchase some of the finest young dressage horses available in Jutland," said Finn Campen. "Our team is committed to providing exceptional customer service, and we are confident that buyers will be pleased with their purchases."
For more information about the dressage horse auction, please visit https://campenauktioner.hibid.com/catalog/433924/8500-net–dressage-unik—fine-horse-auction–jutland-/. Interested buyers can also vistit our YouTube channel or contact Morten Skov at +45 20 87 82 85 or Charlotte Schriber at +45 23 39 95 96 for more information or assistance.
Media Contact
Company Name: Campen Auktioner
Contact Person: Annette Kjaer
Email: Send Email
Phone: +45 40 19 19 50
Country: Denmark
Website: www.campenauktioner.dk