New Audio Book Offers Listeners A First-Hand Account of The Golden Age of Hollywood And Washington – And Of A Celebrated Family – Told By The Award-Winning Author Whose Career In Film, TV, Government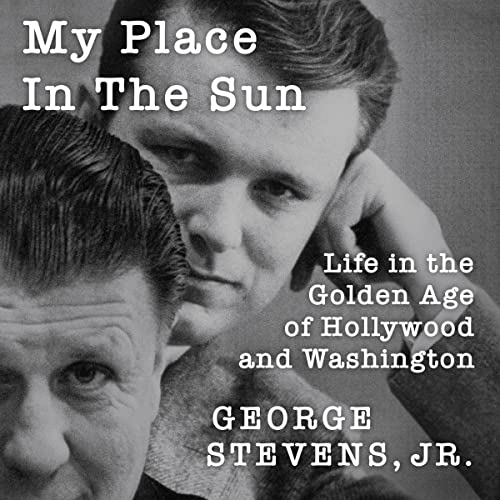 "As a deeply patriotic and proactive American, everything he has touched seems to have found a place in our collective history." – Steven Spielberg
"In this riveting memoir he takes us on a glorious journey through so many of America's most important and enduring moments, both on screen and off." – Tom Brokaw
"A gripping glimpse into 20th-century Hollywood." – Kirkus Reviews
Oscar for Lifetime Achievement. 15 Emmys. Worked with seven US presidents. Founding Director of the American Film Institute. Co-founded, wrote and produced the Kennedy Center Honors, 1978-2014. Author and playwright. Iconic journalist Edward R. Murrow was a mentor in JFK's New Frontier..
George Stevens, Jr. has spent an illustrious career behind and around the camera. Finally, a master storyteller shares his own unique and extraordinary story, with touching insight and historical perspective in My Place in the Sun: Life in the Golden Age of Hollywood and Washington that was published last summer to great fanfare. Now, in his own voice, the AUDIO BOOK is available on Spotify and 28 platforms.
Stevens, Jr. tells an intimate and moving tale of his relationship with his Oscar-winning father and how he emerged from his father's shadow to claim his own place as a major force in American culture through his own exciting career in Hollywood and Washington. Fascinating people, priceless stories and a behind-the-scenes view of some of America's major cultural and political events grace this riveting memoir.
Stevens, Jr. grew up in Hollywood working on film classics with his father and writes vividly of his experience on the sets of A Place in the Sun (1951), Shane (1953), Giant (1956) and The Diary of Anne Frank (1958). He explores how the magnitude of his father's talent and achievements left him with questions about his own abilities and future.
He began to forge his unique bi-coastal career when the legendary broadcaster Edward R. Murrow recruited him to work at the United States Information Agency in John F. Kennedy's New Frontier. He moved from Hollywood to Washington in 1962 and initiated what has been called the Golden Age of USIA filmmaking. In 1967 he became the founding director of the American Film Institute, shepherding the rescue of 10,000 endangered motion pictures (the AFI Collection now contains over 40,000 films), and creating the AFI Conservatory to train a new generation of filmmakers. He created the Kennedy Center Honors and made distinguished films and TV programs that explored social justice.
Stevens, Jr. provides a fascinating look at his pioneering American family that spans five generations in the performing arts. He shows us the private side of the dazzling array of people who cross his path, including Elizabeth Taylor, Sidney Poitier, Alfred Hitchcock, Maya Angelou, Fred Astaire, Robert and Ethel Kennedy, Yo-Yo Ma, Cary Grant, James Dean, Muhammad Ali, Bruce Springsteen, Barack Obama, and many more.
George reveals the following in his book:
* Why his story is America's story, one of how the film industry rose to its stature of today.
* How a son rose out of his father's shadow to be a star in his own right.
* Why his dad put aside a top Hollywood career to join the army and document the war in Europe and concentration camp atrocities.
* Going behind the scenes of Academy-Award-winning film sets and Emmy-winning TV shows.
* Stories of producing and writing the Kennedy Center Honors telecast for 37 years.
* The challenge to save thousands of films as the founder of American Film Institute.
• Starting the AFI Conservatory with newcomers David Lynch, Terrence Malick & Paul Shrader.
* Lobbying Congress to include motion pictures in the new National Endowment of Arts.
* Why he left Hollywood for D.C. to workwith Edward R. Murrow in JFK's New Frontier.
"I've worked to create film and television productions that have lasting value. I learned from my father that what matters in the arts is the test of time. I enjoy the creative process. I would have done the work I did even if I wasn't being paid, but I managed to keep that a secret from studios and television networks."
To see an interview with honorary Oscar winner George Stevens, Jr. on his new audio book about Hollywood's golden era, please click here:
https://bookmarketingbuzzblog.blogspot.com/2023/02/interview-with-honorary-oscar-winner.html
For more information please consult: www.georgestevensjr.com
Media Contact
Company Name: Media Kit Buzz Inc.
Contact Person: Brian Feinblum
Email: Send Email
Phone: 9144622038
Address:23 London Terrace
City: New Rochelle
State: NY
Country: United States
Website: www.bookmarketingbuzzblog.blogspot.com