Author Julie's latest novel, "The Seventh Sense," is now available on Amazon
"The Seventh Sense" by Julie Lebreton presents a stirring tale of one man's quest to unveil the true essence of life in a dystopian world.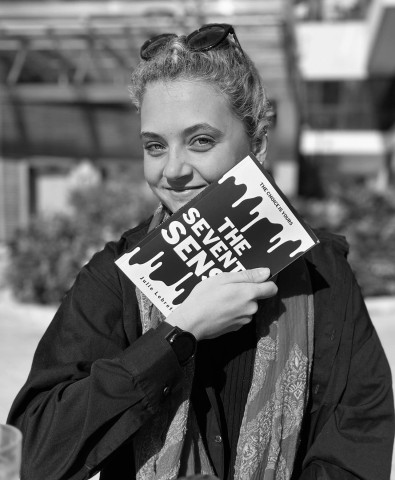 Young author Julie Lebreton has announced the release of her debut novel, "The Seventh Sense," now available exclusively on Amazon. The book is available to rent absolutely free for KDP (Kindle Direct Publishing) users. This thought-provoking dystopian novel explores the ramifications of a society without emotions and the journey of one man's quest for truth and freedom. "The Seventh Sense" offers a unique perspective on the significance of emotional intelligence and human experience, making it a must-read for fans of dystopian fiction.
"The Seventh Sense" follows the journey of Diego, the protagonist of the story, as he sets out on a quest to discover the truth about his past and the society he lives in. The novel is a powerful exploration of what it means to be human and emotions' crucial role in shaping our lives. The story challenges readers to contemplate a simple yet profound question: What does it truly mean to live?
In this thought-provoking novel, Lebreton's writing explores the consequences of progress on society and emphasizes the importance of embracing life's full spectrum. With themes of freedom, human consciousness, and emotional intelligence explored through a prism of neurodiversity, "The Seventh Sense" challenges readers to break free from the constraints of a regulated society and discover the kaleidoscopic facets of human experience. As you delve into this captivating novel, you'll be prompted to contemplate a fundamental question: What does it genuinely mean to live?
Lebreton's debut novel is a testament to her unique storytelling style, providing an introspective and poignant reflection on the human experience. She spent 7 months writing the novel, and the journey taught her a lot about herself. "Everything I lived was put on paper, this book, this story, it's a part of me," she said.
"The Seventh Sense" is a must-read for fans of dystopian fiction and those interested in exploring the meaning of life, love, and emotions. The novel has already received critical acclaim from readers and reviewers alike, and it's quickly becoming a fan favorite. One of the critics mentioned, "The Seventh Sense is a mix between the alchemist and Fahrenheit 451"
Lebreton's decision to self-publish the novel stems from her desire to retain creative control over her work. "I did not want to sell it away for 10 years," she said. She hopes her novel will inspire others to take control of their creative works and fearlessly pursue their dreams.
Readers can follow the book's Instagram account at: https://www.instagram.com/theseventhsense1618 or explore the novel across the internet at: https://lnk.bio/julielebreton
"The Seventh Sense" is a must-read for anyone looking for a thought-provoking and captivating story that will stay with them long after they turn the final page.
About the Author
Born in Germany but grown up in Monaco, Julie Lebreton is a striving author who has received critical acclaim for her thought-provoking works of fiction. Despite her love for privacy, she shares with her readers her quirky personality. She is an introvert with a passion for animals, and her love for lemon is unparalleled. Despite her unconventional tendencies, Julie's unique perspective is an asset to the literary world.
Media Contact
Company Name: Julielebreton.com
Contact Person: Julie Lebreton
Email: Send Email
Country: Monaco
Website: julielebreton.com