Eleven20 Tequila Sponsors VIP Tasting at Palm Beach Boat Show
Experience the Pleasure of Eleven20's Artisanal Tequila Collection at Bobby Giancola's 82' Pershing listing at Denison Yachting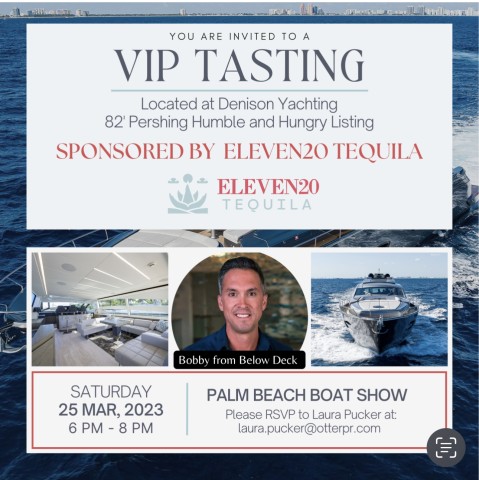 Palm Beach – On March 25th, 2023, the Bobby Giancola, Bravo's Below Deck alum, will be hosting a VIP tasting on an 82-foot Pershing, Humble and Hungry, and Eleven20 will be the featured brand. The event will take place at the Palm Beach Boat Show at the Denison Yachting booth upon the yacht called Humble and Hungry at 6 p.m.
Eleven20 Tequila is truly special amongst tequila brands. Taking pride in its natural ingredients, this brand of tequila guarantees an optimal flavor profile for both experienced and novice tequila drinkers alike. The all-natural blue agave provides a distinctively smooth taste, with hints of sweetness and spice to tantalize the tastebuds. Eleven20 Tequila was created in small batches with obsessive attention to detail by their team of artisans.
At Eleven20, tequila is elevated to an art form. From their Blanco featuring mature 7+-year-old 100 percent blue agave that is harvested traditionally, to their Reposado resting in oak barrels for 3+ months and enriched with artisanal well-water, each flavor brings something unique and special to the table. The Añejo's intense deep red earth and minerals, as well as its 12-month aging process using 9 kg of agave per liter, creates a stunning profile. Finally, their Mezcal utilizes ancestral techniques such as roasting in earth pits and bacterial fermentation combined with modern processes to create an unforgettable taste. Experience the sheer pleasure of Eleven20's tequila collection for yourself today.
"We love tequila and our passion to develop Eleven20 Tequila was established under principles of persistence, patience, and our belief in fate to develop an extraordinary tasting tequila for all to experience," said Alec Tesa, founder of Eleven20. "We brought together flavors from all-natural 100 percent blue agave and specific notes of sweetness that were simply meant to be joined together for us to share. Our rich process of hand-crafted artisanal tequila is what we call perfect."
Palm Beach Boat show is owned by the Marine Industries Association of Palm Beach County and is produced by the Informa Group. The Palm Beach International Boat Show will be taking place Thursday, March 23rd through Sunday, March 26th along Flagler Drive in downtown West Palm Beach, directly across the Intracoastal Waterway from Palm Beach Island.
For more information, visit eleven20tequila.com.
ABOUT ELEVEN20
Eleven20 is a 100% artisanal, all-natural blue agave tequila with smooth notes that are sweet and spicy. With a team of 20 total people, they make their tequila in Jalisco, Mexico – the heart of Tequila country. Eleven20 Tequila was established under the principles of persistence, patience and our belief in fate to develop an extraordinary-tasting tequila for all to experience.
Laura Pucker
Media Contact
Company Name: Otter PR
Contact Person: Laura Pucker
Email: Send Email
Phone: 8136786828
Address:320 1st Ave N Suite 110
City: St. Petersburg
State: Florida
Country: United States
Website: OtterPR.com