Ts4U Announces Expansion and Relocation of Office to Warren, Michigan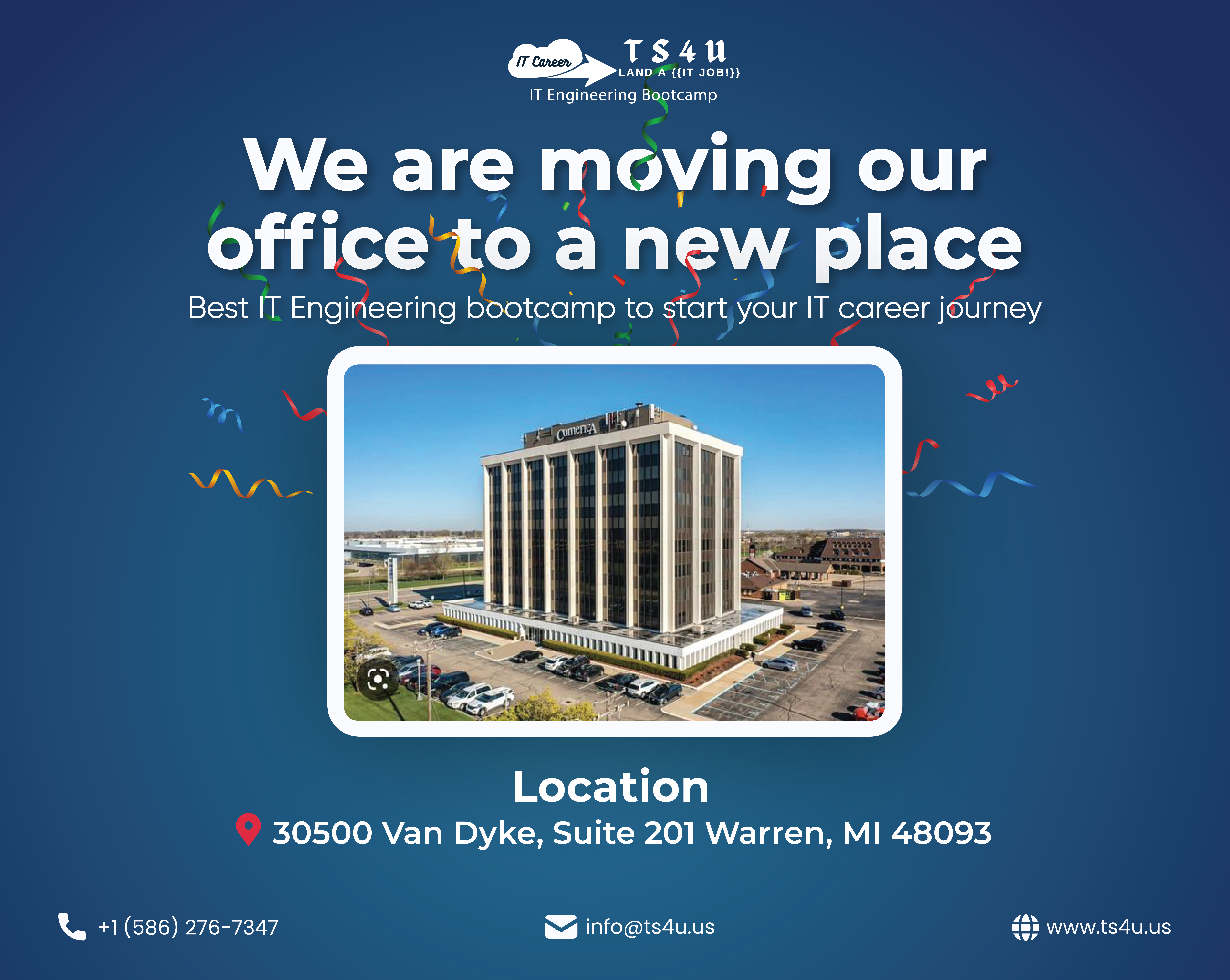 Expand TS4U Office Location Changing Announcement: Unlock Your Potential with our Cutting-Edge Bootcamps in Our New Location at 30500 Van Dyke, Ste 201, Warren, MI 48093. Our headquarter is the next building to the Caddilac headquarters.
TS4U Announces Expansion to New Location in Warren, MI
TS4U, the renowned technology boot camp, announces its move to a new location in Warren, MI. The new place is spacious, providing a new learning environment and opportunities. The founder and CEO of TS4U, Shiblu Ahmad, is excited about this new development, enabling the institution to provide more comprehensive services to students.
Ts4U, a leading IT Engineering platform with a 100 percent Job placement guarantee, has announced the relocation and expansion of their office location at 30500 Van Dyke, Ste 201, Warren, MI 48093 (the heart of Warren, right after Cadillac's headquarters) in Michigan. The new location offers a spacious environment that provides unique opportunities for growth and development to meet the growing demand for their services. The move represents a significant milestone in the company's history as it continues expanding its offerings and reaching more learners.
Shiblu Ahmad, Founder and CEO of Ts4U said, "I am delighted to announce our relocation to Van Dyke, Suite 201, Warren, Michigan. This new location represents a significant step in our mission to provide high-quality technology and software training to learners across the United States. With the new space, we can offer more courses, host more events, and provide a better learning environment for our students."
Ts4U has provided technology and software training for over a decade and has earned a reputation as a leading provider of boot camps for individuals and businesses. Their courses are designed to help learners build new skills and advance their careers. With the new location, Ts4U will be able to expand its offerings and provide more opportunities for learners to advance their careers.
The new location features a spacious environment that provides a better learning environment for students. Additionally, it offers access to the latest technology and resources to help learners stay ahead of the curve. The location is easily accessible and provides ample parking.
Ts4U's new location in Warren, Michigan, will offer the following Bootcamps:
AWS CloudOps Engineer
Software Quality Automation Engineering With Java and Selenium WebDriver
Software Test Automation Engineer with NodeJs and Cypress
Java Software Engineering
Python Software Engineer
Agile Product Owner
Vehicle Validation Engineer
Full-Stack Software Engineering (MERN)
Front-End Web Development (JavaScript-NodeJS)
100% learning spoken and Written English (Only for Bangladeshi)
Benefits of the new location include:
A spacious environment that provides a better learning experience
Access to the latest technology and resources
Easily accessible location with ample parking
More course offerings to help learners advance their careers
A better environment for hosting events and workshops
TS4U prides itself on its uniqueness in providing various benefits to its students. Some of the advantages include the following:
Success: TS4U's success rate is over 85%.
FREE Tuition: Residents of the state of Michigan are eligible for free tuition.
Carrying: TS4U treats each student's journey like part of the family; they challenge students like they will get it done.
Try it out: TS4U offers a FREE Trial, FREE Career Counseling, and 24/7 Support.
Multiple Plans: TS4U provides numerous plans, but the best plan is to be with TS4U, get a job, and enjoy your life (100% job guarantee plan).
Develop technical and communication skills that prepare students to join a company and hit the ground running.
Internship opportunities and work with TS4U's development team to know the entire software development life-cycle and development framework.
Be an EXPERT as a Software Quality Automation Engineer.
Receive monthly progress reports.
Weekly Show-N-Tell.
One-On-Counseling.
One-On-One technical support.
Audio and video mock interviews.
Interview assistance.
Salary negotiation assistance to make more than $20k when negotiating for a job.
Provide a competitive and challenging environment through group competition on our portal.
Develop and build senior-level presentation skills.
Interview mocks, group interviews, and resume reviews based on interview results.
Assist with technical tasks to complete during the interview.
Short and long-term in-job assistance.
Guide students to climb the ladder for their next career.
Provide a mentor who works while teaching and showing students the software development from scratch.
Provide and unleash various career opportunities throughout the BootCamp.
Pay after getting a job and a 100 percent job guarantee.
"This is an outstanding opportunity for students to a new location that provides an environment conducive to learning and growing," stated Ahmad. "Our team is dedicated to ensuring our students receive all the resources and guidance they need to succeed in their careers."
With these advantages and the new, spacious facility in Warren, MI, TS4U is well-positioned to provide students and job seekers with the training they need to succeed in today's competitive job market.
TS4U is dedicated to providing its students with the best possible tech education and preparing them for successful careers in the industry. The expansion of its office location to Warren, MI, is a testament to the company's commitment to this goal. With more opportunities and a new learning environment, tech enthusiasts can take advantage of TS4U's unique training approach and become experts in their respective fields.
TS4U is now accepting registration for free webinars on its various boot camp programs. For more information, visit their website at www.ts4u.us
Media Contact
Company Name: TS4U IT Engineering Bootcamp
Contact Person: Shiblu Ahmad
Email: Send Email
Phone: 5862767347
Address:30500 Van Dyke, Suite 201
City: Warren
State: Michigan 48093
Country: United States
Website: https://ts4u.us/link/talktous