Likely.AI Launches Pre-Market Intelligence App for Follow Up Boss to Revolutionize the Real Estate Industry
Seattle, WA – March 24, 2023 – Likely.AI, the leading real estate artificial intelligence company, has announced Today the release of their embedded REfresh Engine app for Follow Up Boss. This integration of their patented AI technology into Follow Up Boss enables users to enrich their contacts' data, score AI-powered seller prediction models, and monitor contacts 24/7 for any changes, all from within the app. This innovative feature is called Pre-Market Intelligence and is essential for keeping your contacts' information up-to-date and knowing who is most likely to move.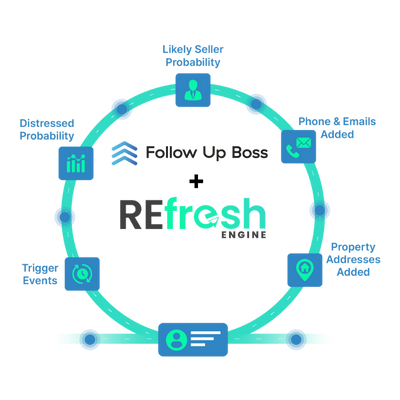 According to a Salesforce study, approximately 30% of records become outdated every year, and around 9.8% of people move annually, making it challenging to keep contacts' information updated. With Likely.AI's Pre-Market Intelligence, Follow Up Boss users can quickly and easily welcome advanced artificial intelligence into their team to transform their business. This game-changing AI-powered technology is changing how the real estate industry protects its business from the competition, all while using apps they already know.
Brad McDaniel, Founder & CEO of Likely.AI, said, "The future of real estate requires an innovative approach to strengthen human relationships as the industry moves to a faster, more technology-driven transaction. Follow Up Boss users now have a simple way to welcome advanced artificial intelligence onto their team to transform their business."
Here's how Likely.AI's Pre-Market Intelligence works:
Enrich Contacts:
Likely.AI fills in missing information like addresses, phone numbers, emails, and property details to enrich contacts in Follow Up Boss. This leads to more accurate and complete data, allowing real estate professionals to make better decisions and engage with their contacts more effectively.
Predict Sellers:
Likely.AI predicts which contacts are most likely to sell, or are distressed based on patented artificial intelligence models. This Pre-Market Intelligence lets real estate professionals focus their efforts on the most promising leads and close deals faster, saving time and increasing revenue.

Monitor Contacts 24/7:
Likely.AI monitors contacts in Follow Up Boss for any change to a contact's data and prediction scores. With this technology, real estate professionals will keep their contacts' information up-to-date and automatically trigger pre-built automations designed for Likely.AI events, all from inside Follow Up Boss. Don't miss new opportunities, stay on top of leads, improve productivity, and succeed.
To start receiving near real-time Pre-Market Intelligence in Follow Up Boss, just enable Likely.AI's REfresh Engine embedded app and follow the setup prompts.
About Likely.AI
As the leading real estate AI company they have won several awards, including recognition from the REAL Trends Game Changer's List, T3Sixty's Real Estate Almanac, NAR iOi Summit, Realogy's FWD Innovation Summit, and futuRE's Best in AI category. They are committed to making innovative AI for the real estate industry, delivering Pre-Market Intelligence to real estate agents and brokers, and enabling them to laser-focus their time and marketing dollars on homeowners primed to take action.
About Follow Up Boss
"We make real estate lead conversion and sales follow up more efficient and automated resulting in our clients making more sales and having the capacity to grow their business in a calm and organized way. Follow Up Boss enables agents to deliver an incredible customer experience, at the speed and volume that today's real estate businesses require.
Media Contact
Company Name: Likely.AI
Contact Person: Brad McDaniel
Email: Send Email
Country: United States
Website: https://likely.ai/