Ciarra Launches First-Ever Bespoke Decorative Smart Island Hood with Cutting-Edge Air Purifying Functions
The latest cooking hood was designed for luxurious modernity, incorporating exquisite craftsmanship and top-tier technologies to produce a functional piece of art
Cooking is a relaxation and creativity outlet for many as it is an activity that has been proven to reduce stress levels and give an individual the room to combine different unique ingredients. However, some of the bye products of the cooking process, such as airborne grease, fumes, smoke, and heat, can be detrimental to one's health if left to accumulate in the home. Therefore, it is important that homeowners and cooks invest in high-quality cooker hoods that maintain the health and well-being fostered by homemade meals. Ciarra is on a mission to provide durable and dynamic cooker hoods and kitchen accessories that suit the customer's aesthetic and budget.
Ciarra is a professional kitchen appliance brand that is committed to making cooking convenient and fun. The brand offers its global clientele an array of cooker hoods, cooktops, and ovens that promotes a healthier lifestyle. Ciarra is pleased to announce its latest avantgarde cooker hood, the 3-in-1 Ciarra INFINITY, a high-tech cooker hood that seamlessly combines the Plasma+ and H13 HEPA filters and is equipped with a customizable outer shell for clients on the lookout for a fusion of art and tech cooker hoods.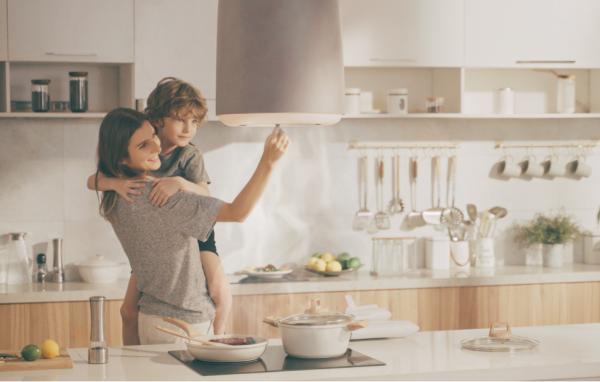 The Red Dot Design award-winning Ciarra INFINITY 3-in-1 cooker hood comes in a cylindrical shape that adds a modern twist to this leading technology product. Furthermore, the Infinity's RGB color-changing LED ring light feature is ideal in configuring one's environment to their mood with the different bright colors, which make the cooker hood double as a lamp.
The powerful combination of the Plasma+ and H13 HEPA filters in the Ciarra INFINITY 3-in-1 cooker hood effectively eradicates toxic smells and substances through the rapid phases of air purification, as seen below:
Phase 1: Pre-filter or grease filter stage where the fifteen layers of mesh stainless steel filters remove microscopic grease particles during cooking or from large airborne particle pollution.
Phase 2: The H13 HEPA filter eliminates over 99% of larger particles that are 0.3 microns in size and above.
Phase 3: The newest technology in the industry, the Plasma+, causes any lingering odors and scents molecule chains to pass through an electrified plasma environment with 3000V where these molecules are then disintegrated and oxidized through the plasma chemical reaction and converted into fresh oxygen, carbon dioxide and water, which are reintroduced as clean air into the kitchen and living room.
While the integrated Plasma+ technology reduces odors by close to 95% and eliminates 100% of viruses, bacteria, and germs from the air, the HEPA filters provide immense relief for allergy and asthma by capturing any particles larger than 0.3μm including bacteria, viruses, dust mites, and pollen. Homeowners with experience with wall-mount hoods, integrated hoods, and island hoods are set to enjoy the game-changer that is the Ciarra INFINITY 3-in-1 Cooker Hood.
For more information, please visit https://www.ciarraappliances.com/pages/ciarra-infinity
Media Contact
Company Name: Ciarra Appliances
Contact Person: Media Relations
Email: Send Email
Country: United States
Website: https://www.ciarraappliances.com/